High in the Sky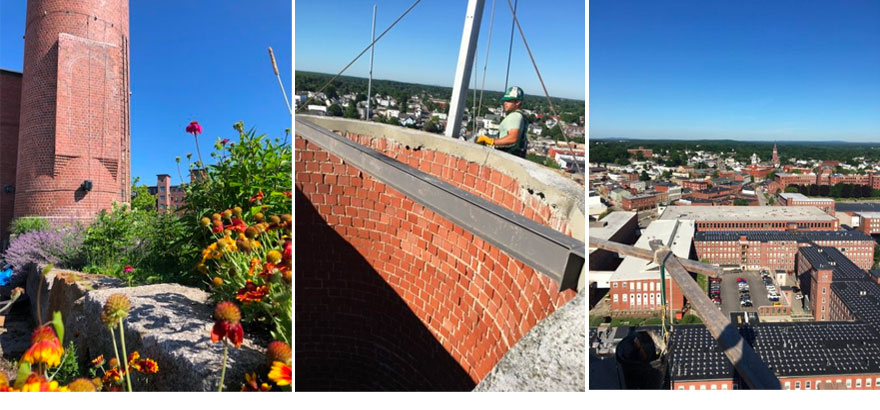 Building 37, situated on the banks of the Saco River, with the large brick smoke stack has become an icon and landmark for Biddeford's historic downtown. The stack recently underwent extensive repairs and maintenance to restore the chimney's integrity. Though the stack is obsolete, preserving its history and the history of the property is a top priority.
This past November, International Chimney Corporation (ICC) was contracted to field weld and replace a steel band near the top of the stack, approx. 250 feet high, that had partially detached over time from exposure to the elements. ICC was hired to survey the entire chimney and produce a report of existing conditions and recommendations for future repairs. In March we contracted ICC to complete the recommended repairs, approximately $115,000 investment.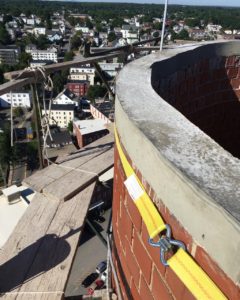 The contractors used ladders to set up staging, rigging, and safety equipment to access points from the bottom to the top and in between over an 8 week period. They pointed all loose and open mortar joints within the outer shell of the chimney. Brickwork was repaired throughout, two new ground rods were installed, and they extended both downleads to grade level. They replaced the top three, badly degraded, steel bands with new steel welded bands. And finally, they removed the deteriorated concrete cap from the top of the outer shell and formed and poured a new cap to replace it equipped with a new steel vented cover to prevent moisture.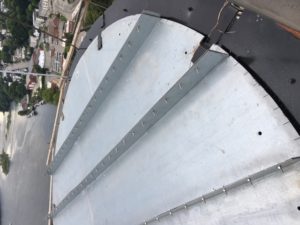 Building 37, more commonly referred to as the steam plant or boiler house was built in 1916. The steam plant created steam to power machinery throughout the mill, make electricity, and provide heat. The steam was used throughout the Biddeford and Saco Mill Districts and even powered some homes and buildings on the downtown grid. The steam plant drew in water from the Saco River and heated it with a large coal boiler. In 1936, the plant was switched over to an oil-fired boiler to replace the antiquated and dirty coal boiler. Decades later it was switched over to natural gas, which was more cost-effective. The steam plant was shut down in 2009 when WestPoint Stevens closed.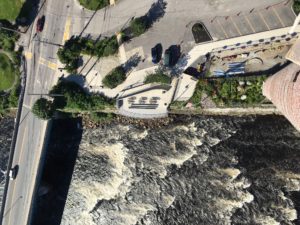 We are proud to invest in the restoration of the Chimney so that it can remain a historic landmark for generations to come in downtown Biddeford.
---